Help for reporters to understand the new Tax Standard
​Free webinar on the first global standard for tax transparency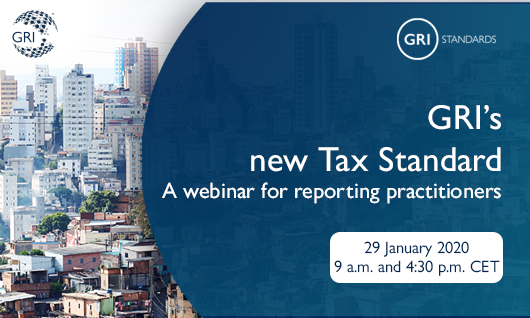 Why has the world's leading sustainability standard setter launched a new reporting standard on tax – and how can organizations start to understand and use it to disclose their impacts?

To help answer these questions and many more, GRI is holding free webinar sessions on 29 January, open to all those with an interest in the new Tax Standard. GRI 207: Tax is the first global standard for public, country-by-country reporting on tax. It also includes disclosures on tax strategy, governance and risk management.
Published in December, the latest addition to the GRI Standards responds to concerns over the impact corporate tax avoidance has on the ability of governments to fund services and support sustainable development. It is now freely available for use by any company, irrespective of location, size or sector.
Tim Mohin, GRI chief executive, said:

"GRI's Tax Standard can be a game changer. For the first time, we have a global standard that can ensure companies demonstrate effectively how they contribute through taxes in each of the locations where they operate. This crucial information is needed if we are to have a well-informed global debate about corporate tax practices."
The webinar will introduce the contents of the Tax Standard, overview the benefits for companies of reporting on tax and include a Q&A. Due to the initial high demand, the capacity has been extended. Please note that advance registration is required and places are limited.
The webinar take place on 29 January (repeated across two time slots to support international participation):
Session 1: 9:00 – 10:00 am (CET)

Session 2: 4.30 – 5.30 pm (CET)

More information about GRI 207: Tax is available online.