Transparency brings corporate response to Black Lives Matter into focus
Published date: 18 June 2020
STATEMENT BY TIM MOHIN, CHIEF EXECUTIVE OF GRI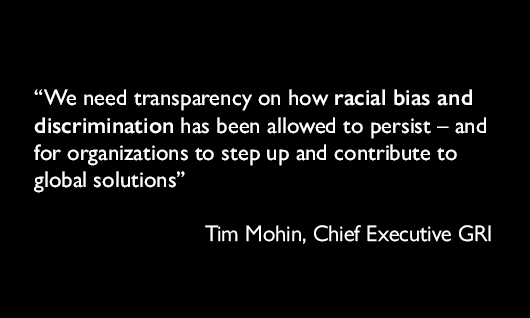 ​"In recent weeks we have seen a tipping point reached – and passed – in the Black Lives Matter movement. As protests have spread around the world, they have ignited demands for equality and an end to systemic racial bias in all its forms. Organizations are rightly being pressed to set out how they are responding to this call – and the need for transparency has never been higher. 
Equality is at the core of the values and mission of GRI. For 23 years, we have pioneered corporate transparency. This transparency shines a light on the diversity practices of thousands of companies around the world, employing millions of people, which in turn is an enabler for change.
The principles of equality are embedded in the GRI Standards, which includes Standards that specifically address non-discrimination, diversity and equal opportunity.
The Universal Standards, which apply to every organization that reports their impacts through GRI, are currently being updated and will introduce a clearer focus on human rights – including requirements to report on policies and actions to respect human rights, such as the rights to equality and freedom from discrimination.
However, racial inequality is insidious, and the reality remains that many people around the world continue to face 'built-in' discrimination on the grounds of their race or ethnicity. This includes barriers to employment and education, among other issues.
Here too, the GRI Standards have a role, to encourage organizations to consider and disclose possible sources of systematic bias. From transparency on how much companies contribute to communities through tax payments, to fairness in wages and benefits for employees, these are all factors that can impact on how a business performs from an equality standpoint.
As an organization, GRI tries to demonstrate these values. For example, we seek global representation throughout our governance bodies, our diverse workforce includes 34 nationalities within our 102 employees – and we are striving to provide a working culture that is fair and open to all. However, we recognize there is more we can and must do, to lead by example.
What we now need is radical honesty from all organizations, on where and how discriminatory practices and racial bias in all its forms exist in their spheres of control and influence. That requires transparency between organizations and all their stakeholders. And crucially, this transparency must be a springboard to step up and contribute towards the global solutions needed to tackle these persistent systematic failures once and for all."


Background information


GRI 405 'Diversity and Equal Opportunity': indicators of diversity in relation to various groups
GRI 406 'Non-discrimination': incidents of discrimination on grounds of race
GRI 412 'Human Rights Assessment': human rights impact assessments and employee training (this content will be incorporated into the revised Universal Standards)
GRI 413 'Local Communities': consultation with vulnerable groups