Tax Standard now available in nine languages
Published date: 23 June 2020
Translations of GRI 207: Tax 2019 increase global reach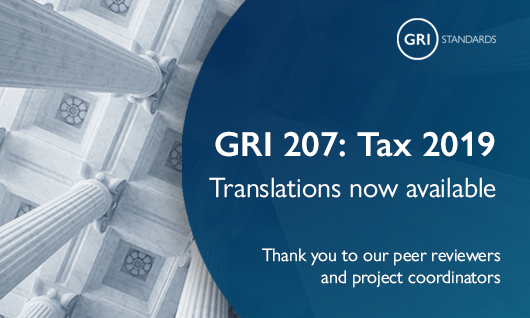 ​New translations of the GRI Tax Standard have been made available in Arabic, Bahasa Indonesian, Traditional and Simplified Chinese, French, German, Italian and Spanish.
Launched in December 2019, 
GRI 207: Tax
 provides the first global, public reporting standard for tax transparency. The Tax Standard is freely available for use by any company as part of the GRI Standards, the world's most widely used sustainability disclosure framework.
The commitment to deliver new 
translations of the GRI Standards
 further broadens the global relevance, accessibility and reach. Downloads of all GRI Standards rose by 44% in 2019 compared with the previous year – while for translations, the growth rate was even higher at 81%.
GRI Chief Executive Tim Mohin said:


"The GRI Standards are used by thousands of organizations around the world, regardless of location, size or sector. By providing the Tax Standard in new language translations, we are increasing the number of companies that can use GRI 207 to disclose their tax practices in line with global best practice."


Dima Maaytah - Asda'a BCW
Khulood Hindiyeh - sustainability and social impact adviser
Ali Rahmadi - PT Moores Rowland
Deladwita Suyoso, Josephine Satyono, Mardhathillah Aulia, Mita Listya, Tasha Sianturi - Indonesia Global Compact Network (IGCN)
Gracia Plenita Agnindhira - Alliance for Water Stewardship Asia-Pacific
Harry Seldadyo - Atma Jaya Catholic University of Indonesia (Ukiaj)
Maria Dian Nurani - International Society of Sustainability Professionals (Indonesia Chapter)

Semerdanta Pusaka - Social Responsibility Asia
Joe Chen - Deloitte & Touche
Pony B.L. Huang - Taiwan Stock Exchange
Samantha Toh - Acer


Xin Wang - SynTao Co. Ltd
Kelly Liao - KPMG China
Kevin Wang - PWC China


Dolores Larroque - MATERIALITY-Reporting
François Sibille - Sibille Consulting / Geneva School of Management


Thomas Fleissner - DFGE Institute for Energy, Ecology and Economy
Sied Sadek, Thijs Willaert - DQS CFS (German Society for Sustainability)
Additional advice: Maren Granzow - IDW (Institute of Public Accountants in Germany)


Lorenzo Solimene - Sustainability Services, KPMG
Laura Corazza - University of Turin
Gaia Giussani - Risk Assurance Services, PwC


Jaime Moncada - Colombian Business Council for Sustainable Development (Colombia)
Jorge Reyes Iturbide - Center for Corporate Social Responsibility and Sustainability, Universidad Anáhuac (México)
Laura Pujol Giménez - sustainability consultant (Spain)
Paul D. Maidstone - Glencore Zinc (Chile)
Additional advice: Carlos Cordero, Miguel Alba - Alliance for Fiscal Responsibility (Spain)