Responsible investment momentum for Colombia
Published date: 26 August 2020
​Organizations across Colombia pledge to support sustainable business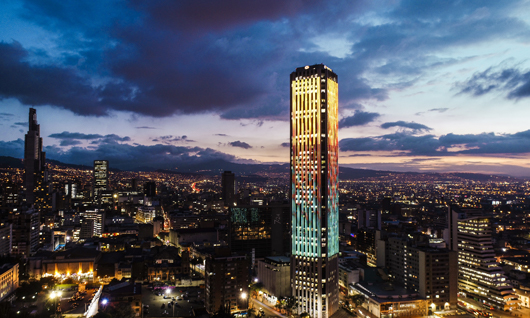 The public and private sectors in Colombia has united in support of responsible investment practices that enable a fair and sustainable economy.
The GRI-led initiative sees 17 national and international organizations agree a
Declaration in favor of Responsible Investment in Colombia
, which includes respect for human rights and alignment with the UN Sustainable Development Goals (SDGs) and the Paris climate accord.
The declaration promotes the importance of the following points for all signatories:
Promote ESG criteria in corporate financial analysis and business strategies, recognizing the impact on business performance.
Ensure regular reporting of ESG performance, measuring results through internationally recognized standards and practices, such as provided by GRI, CDP and TCFD.
Encourage the dissemination of ESG information, as well as a better quality and effective use of publicly available information, to analyse risks and business strategies.
Promote the implementation of the issues addressed in this Declaration by institutional investors and Colombian companies.
Alongside publication of the declaration, GRI and the Colombian Stock Exchange (BVC) have jointly issued
ESG reporting guidance for listed companies in Colombia
, providing guidance that all listed companies in the country are encouraged to adhere to.
Andrea Pradilla, Director of GRI Latin America, said:
"Developed by the GRI-led Task Force on Responsible Investment, we hope this declaration will contribute to the building of a more sustainable Colombia, supporting a resilient and fair economic recovery following the COVID-19 pandemic. Transparency is essential to build trust in capital markets. Through this new guidance we seek to promote reporting and disclosure of ESG information, helping improve the availability and quality reported data to allow more informed decision making."
Juan Pablo Córdoba, President of the Colombian Stock Exchange, said
:
"To increase and improve sustainability reporting the best option is to align with the best international practice and we have chosen the GRI Standards for its recognition, positioning and legitimacy in Colombia and the region. Companies are truly committed to sustainability and the objective of this guidance is to help them understand how to measure and report using the GRI Standards to provide useful information for the local context and in capital markets."
Isabel Mantilla, Sustainability & Financial Education Director of Asobancaria (Banking Association and Financial Institutions of Colombia) said
:
"We recognize the importance of incorporating sustainability criteria into investments as a way to move towards a low- carbon and resilient economy, aligned with the SDGs."
Shenny Gonzalez, General Secretary of Asobolsa (Association of Stockbrokers of Colombia), said
:
"We have decided to adhere to this declaration because we recognize the importance of including sustainability criteria within the financial analysis, promoting sustainability reporting and encouraging responsible investment in Colombia."
Maria Andrea Trujillo, Research Director of CESA (the Colombian College of Higher Studies) added
: 
"Responsible investment is essential if we are to achieve the SDGs because it provides an approach that not only focuses on financial returns but also on contributing to a more equitable world, recognizing that there are different ESG factors that influence the ability to achieve a prosperous and sustainable performance."
The signatories to the declaration are Asobancaria (Banking Association and Financial Institutions), Asobolsa (Association of Stock Brokers of Colombia), Asofiduciarias (Association of Trustees), Asofondos (Association of Pension Funds), BVC (Colombian Stock Exchange), CCADI (Colombian Climate Asset Disclosure Initiative), CDP, CECODES (Colombian Business Council for Sustainable Development), CESA (College of Higher Studies), ColCapital (Association of Private Equity Funds), Colombian Government (Financial Superintendent), Fasecolda (Federation of Insurers), GRI, the International Finance Corporation, UN-PRI and SECO (Swiss State Secretariat for Economic Affairs), WWF Colombia.
The declaration was the outcome of the
Jornada de Inversión Responsible conference
, which took place in July and involved a series of online panels with 1,100 participants.
Headquartered in Amsterdam (the Netherlands), GRI's Latin America Hub is based in Bogata, and is part of a network of seven regional hubs globally.