Certified training for the sustainability profession
Published date: 24 September 2020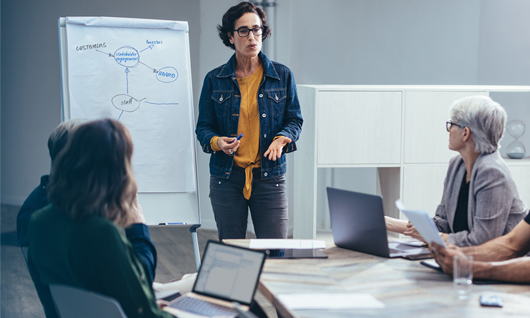 New sustainability curriculum launched by GRI
A suite of high-quality and globally applicable training courses for sustainability reporting specialists are available, following the launch of the GRI Professional Certification Program.
The program delivers a professional training route for individuals seeking to use the GRI Standards for best practice reporting on organizational impacts. It can be accessed fully online or combined with learning provided through GRI's global network of Certified Training Partners.
The Professional Certification Program includes five courses, covering the fundamentals of GRI reporting, available through the GRI Academy, which lead to a final certification exam. Passing the exam will grant individuals the status of GRI Certified Sustainability Professional. Certification can be renewed annually by taking the minimum learning hours through Continuing Education Units (CEUs).
The five courses in the program are:
1. Introduction to sustainability reporting and the GRI Standards
2. Stakeholder engagement
3. Materiality
4. The sustainability reporting process
5. Integrating the SDGs into sustainability reporting
Mirjam Groten, GRI Chief Business Development Officer, said:
"At GRI, not only do we provide the world's leading standards for organizations to disclose their impacts on people and planet, we also strive to deliver services and training that improve skills of sustainability professionals and help companies increase the quality of reporting.
The new Professional Certification Program, which delivers a learning path that leads to a globally recognized qualification, was developed in response to market needs. It is designed to ensure that individuals can build their knowledge, demonstrate competence in GRI reporting, supported by continuing education and upskilling."
GRI works with over 100 Certified Training Partners (CTPs) across 57 countries, who will offer part of the Certification Program with the additional  value of local context and language, peer to-peer learning and networking opportunities. Since the CTP program launched in 2010, more than 41,000 people around the world have participated in GRI courses.
Nancy Mancilla, Founder of ISOS Group (USA), has been a CTP for more than a decade. ISOS' GRI training sessions have reached more than 2,000 participants. She said:
"As a training partner of GRI, we are proud to have contributed to the learning and development of so many sustainability professionals. The launch of the program is an exciting stage, which will allow us to deliver in-depth and comprehensive sustainability reporting training, with learners encouraged to keep up-to-date with the latest practices and trends."
Find out further details and pricing for the Professional Certification Program. The five courses are accessible online through the GRI Academy. Access the list of all GRI Certified Training Partners worldwide.
The program uses CEUs, which ensures that GRI Certified Sustainability Professionals update their professional competence annually, by accessing further learning through the GRI Academy, in order to retain certification status.